The study Creative Valencian Agency Trumbo commitment to "tone challenger and leader" of the Main call of the sector in an innovative image in betting by "three-dimensionality to extol the real protagonists of event: materials, components and technology ".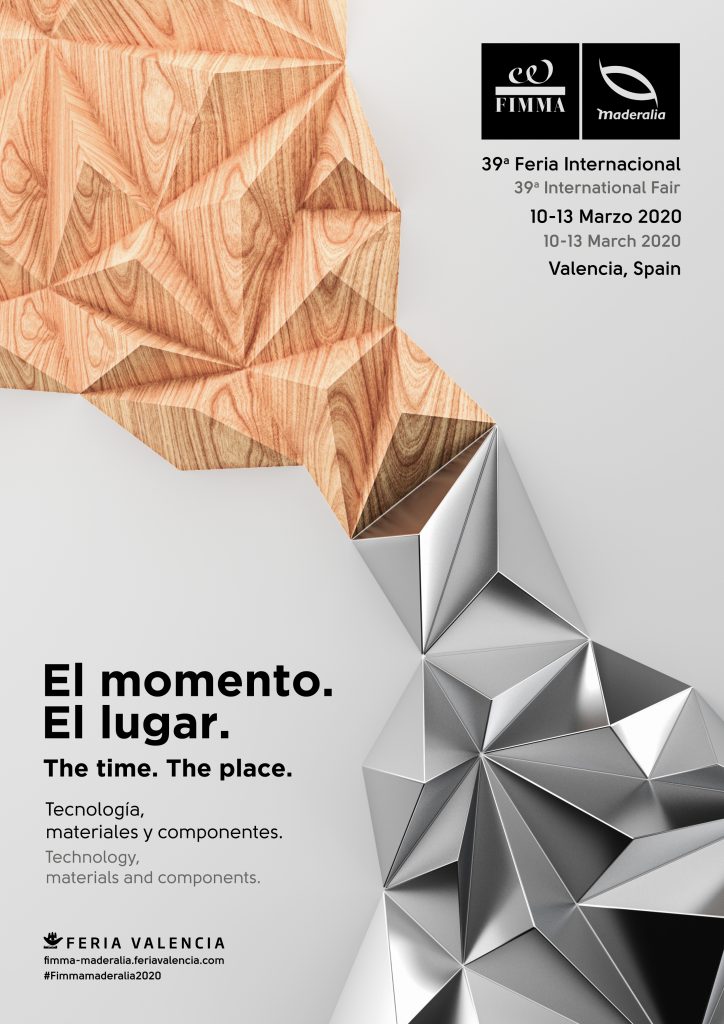 Valencia, 25 junio 2019.- FIMMA Maderalia presented what will be his new image campaign for the next edition, que se celebrará en Feria Valencia del 10 to 13 next March. It is a very powerful aesthetic image and it has been carried out by the Valencian creative studio Trumbo, an agency who has worked with brands such as Bankia or the Generalitat Valenciana.
as explained from the agency itself, The challenge was to stress the importance of a date, from the 10 to 13 March 2020 como "The most important event on the calendar Trade fair for the furniture industry, carpentry, interior design and decoration ". Therefore, the concept, 'The moment. The place', FIMMA-Maderalia regresa "with a challenging and leading tone that makes us aware of the importance of date and appointment of this unmissable event ", explain.
In this line, the 'claim' is accompanied by a picture "That focuses on tridimensionalidad to extol the true protagonists of the event: materials, components and technology ". Futhermore, is about "A clear allusion competitions, the different raw materials that coexist in the and fair to the different profiles of visitors and exhibitors ".
All this materializes "A sculptural element that combines shapes and textures and It helps to represent the brand identity and the essence of the fair". The result is a "Current and striking visual" Whats Next "the last graphic trends of the moment and all media fits, so much digital, or audiovisual, as physical ". This is, In short, on "a infallibly to wrap all the guests in this new form of FIMMA-Maderalia live ".
excellent prospects
With this new Image Campaign, FIMMA - Maderalia definitely started marketing an event that has already received numerous requests for space reservation. The technical team and has recently carried out two commercial activities Direct industry in the events held in Germany receiving a excellent response not only of the present but of Spanish firms virtually all the world's leading groups of sectors machinery and technology, boards, hardware or varnish.
With all of this, the fair is already under renovation and reserve space for a multitudinous edition expected and in which the great biennial materials, components and technology returns to the new pavilions of Feria Valencia the levels 1 and 2, where they will be located the flags of FIMMA and Maderalia respectively.