Mantiene la belleza natural de la madera

.

Elevada resistencia química

.

Elevada dureza

.

Protege la madera de arañazos y abrasiones

.

Amplia gama de colores y brillos

.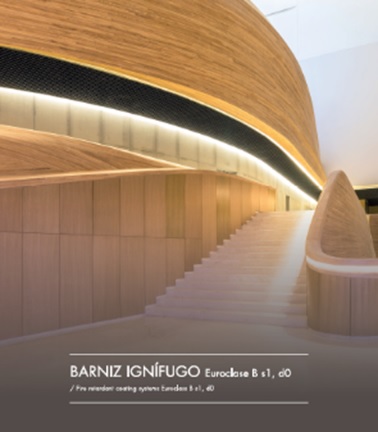 Preserving the environment and people is the objective to which ICRO contributes when designing and developing innovative solutions with high benefits and high technological content. From this effort, the ECL fireproof line is born, which aims to make public places safer, delaying the start of the fire.
The products of the ECL line have a proven and certified fireproof capacity, on natural wood. The technology presented in Maderalia 2018 is ideal for wooden furniture, ceilings and decoration faces, fulfilling the most demanding requirements of designers, architects and applicators.
The fire reaction tests carried out, in accordance with the European standard EN 13501-Part 1, have allowed to classify varnishes and lacquers as EUROCLASE B s1, d0.
The classification is valid for the protection of all untreated or fire-retardant wood supports, for use in walls and ceilings, according to the technical criteria indicated in EN 13823, EN ISO 11925
Thanks to ICRO's R+D+i, with this range formulated with innovative resins, we offer cutting-edge technology. ECL products help reduce the reaction to fire of wooden elements. After an adequate varnishing, the product guarantees a significant reduction of the oxygen supply in contact with the area affected by combustion. In case of fire, under the action of a source of heat and flame, the coating isolates the support from the increase in temperature and slows the carbonization of the wood.
Characteristics:
Maintains the natural beauty of wood

.

High chemical resistance

.

High hardness

.

Protects wood from scratches and abrasions

.

Wide range of colors and brightness

.
We put at the disposal of the most professionals and demanding works a product with guarantee and classification EUROCLASE B s1, d0 on wood without fireproof treatment.