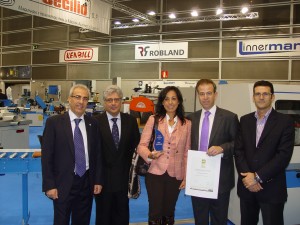 COMMERCIAL CECILIO has emerged as the oldest exhibitor at the International Exhibition of Woodworking Machinery. From 1965, the Madrid company has not missed any edition.
Jaime de Cecilio, COMMERCIAL CECILIO manager trusts that the environment FIMMA-MADERALIA 2014 it is spectacular, due to convergence with CEVISAMA and HABITAT.
"The stands are smaller, and more-pointing narrow streets renowned supplier of machinery for wood-. We expect that fair environment is translated into new prospects and sales ".
CECILIO confident that the months have passed without the quintessential fair sector encourage the professional and industrial wood and furniture to visit this 36 edition. "Above all we hope that the assistance of local visitor, Levante, Catalonia and Madrid, is almost completely point-. We must await the reaction of the people of the north, Andalusia and islands and the change of date, as siempre, awaited the arrival of international visitors, from Portugal, Latin America and North Africa ".
COMMERCIAL CECILIO display on an island 160 meters of new machinery and equipment exhibition, and presented as main paths Novedad machines to manufacture pellet su exclusive Italian NEW PELLET: for a small consumption of, 70 Kg. / time, and an industrial, capable of generating 500 kg. / time.
"Currently, the market situation has made the demand for new machinery in a 50 percent, leaving the other half for used equipment explains Jaime Cecilio-. We trust that, upon completion of the restructuring of the market, strongly reactive finally selling new technologies to companies that survive and get out of this long crisis strengthened. Today we continue to suffer. Factories closed and not open one new. But the terrible phase 2009-2012 passed. Worse then we are not now ... ".
For the prestigious supplier of machinery Madrid, "Export is a safety valve, but it is not the solution ". In his opinion, "All we want is active inside flip; confident that FIMMA-MADERALIA represent an endorsement of our industry, so affected by the lack of credit to businesses ".
COMMERCIAL CECILIO is a modern enterprise distribution woodworking machinery. Has facilities for 24.000 m2, which 8.000 are used for offices and warehouses.
CECILIO represents exclusively in Spain over 35 manufacturers 9 countries around the world. The Madrid company has supplied more than 60.000 machines in recent 25 years. Day to day, COMMERCIAL CECILIO working on improving their service and quality.