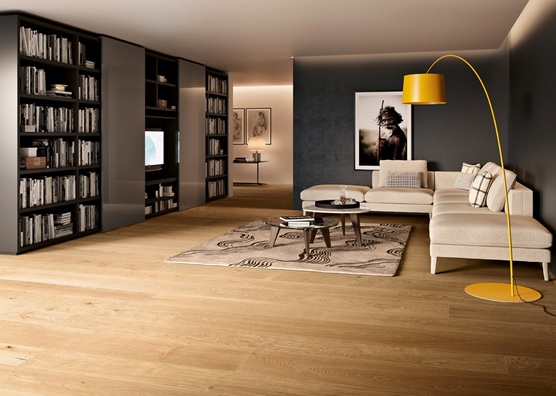 WoodCover Gran Formato XXL, It is the collection of hardwood floors that PLUS COVER Solutions presented from 6 to 9 February, At the 38th International Fair of Machinery and Tools for Furniture, Carpintería y Decoración – FIMMA-MADERALIA, Valencia, and defining a type of flooring specification interior that goes to meet current and modern trends in architecture, decoration and interior design.
These large pieces are available in different widths 190/220 / 240 / 260 / 300mm, can be combined including, with a top layer of 6mm, to suit modern requirements of construction professionals, Architecture and Interior Design. Ensuring the highest quality, sturdiness, and nobility and stability of solid woods.

This line is made with a multilayer core of birch plywood, eucalyptus and poplar. The chamfering feature 4 sides of this collection reinforces the visual of the wider planks, creating a luxury ground even more expressive. Available with traditional tongue and groove connection, It can be applied in nailing system, enrastrelado and pasted. Great XXL, also known as broad or wide parquet flooring, enhances the beauty of natural wood. This exceptional collection marks the latest development trend in soil engineering.
More information:
PLUS COVER Solutions It is dedicated to the distribution of laminate flooring and parquet of different brands, styles and peculiarities. We have a wide range of fully adjustable models to customer needs. We distribute to all Spain and Portugal.
Grand Format WoodCover > http://www.pluscover.eu/index.php/es/productos/woodcover#
PlusCover > http://www.pluscover.eu