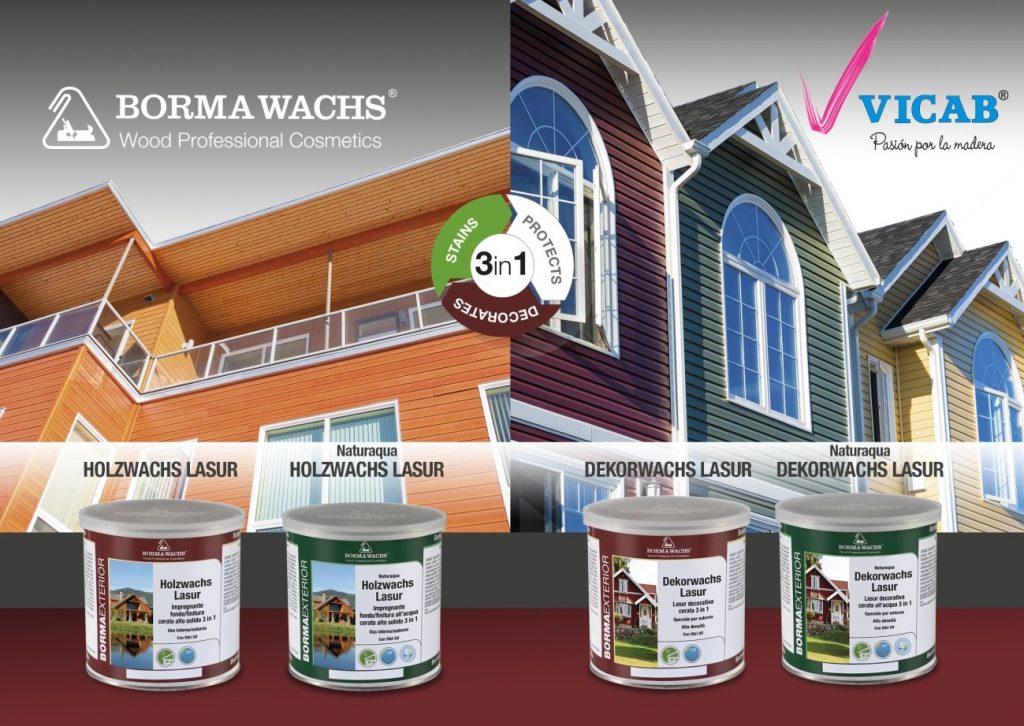 VICAB exclusive distributor for Spain Borma wax , manufacturer based in Italy since 1928 , present in Maderalia 2020 the latest range of organic products and water based products. We invite you to visit us at our booth.
Many experiences have contributed to growth VICAB . Specialist RETOUCH, the range has been extended to RESTORATION / DECOR, DORADO, OILS AND FINISHES indoor and outdoor. The preference for organic materials and constant research make it one of the most complete manufacturers of the market , able to offer solutions 100% natural, traditional hybrid, mixtures of water and VOC technologies, all certified IBR.
With the seal "3 in 1", Borma Wachs define these upper layers waxed wood for external coatings capable of performing three functions: deep impregnation, surface protection and decoration. Wood wax glaze 3in1 y Dekorwachs glaze 3in1, among the products most appreciated in the outer range respectively for natural effects semitransparent decorative effects , They are distinguished by their extreme docility to brush. Thanks to the hybrid formulation that combines the fluidity of natural oils, strength resins and lightfast pigments with the glossy smoothness waxes, durable finishes easily achieves a very pleasing aesthetic effect. Among the strengths, the absence of sanding required intermediate and maintenance, which it makes the product attractive both for yourself and for professional, streamlines work and enables application in large areas.
Enriched with UV filters and special protective ingredients, thixotropic for a perfect verticality, the Lasur 3 in 1 It is offered in 32 colours (natural wood color coating).
Reduced VOC content and oil-based formulation combines this type of product with the philosophy of ecological sustainability of the company, Certified by IBR (Building Biology Institute Rosenheim), combining ease of use with astonishing strength over time. Two variants of a professional quality product that exceeds the concept of common paint thanks to hybrid technology and conquers all markets.