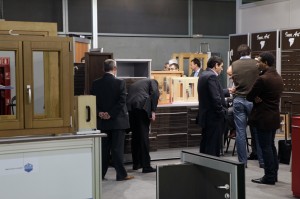 Wood with a velvet touch, doors that hide inside a closet or new materials more durable and efficient home are some of the proposals may visit early next February at Feria Valencia
When little time remains before the doors open, from the 11 to 14 of February at Feria Valencia, Fimma-Maderalia exhibitions are prepared to become one of the largest showcases of the supply during these four days where suppliers from the furniture and wood industry meet.
A sample of proudcts that this year is full of new developed proposals to provide households, facilities or greater warmth contract projects, functionality, as well as aesthetic and decorative value.
Therefore, and in its 36th edition, the samples present bets so innovative such as Velvet Diamond, a new finish with a unique touch perception that, beyond color or aesthetic value, transforms wood into a velvety surface with high scratch resistance.
Also at the present call of the salons, and from one of the participating firms, coins a new term, the "door-closet" with a creation designed to the doors of our house also become containers, capable of holding shoes, medicines or any other product that we want to store.
But without a doubt, the innovation this year comes from the extensive list of new materials that are presented at Maderalia (the International Wood-Furniture Sector Suppliers Exhibition) and that, as a common denominator, possess high resilience, durability, functionality, recycling and maximum safety for the user's health. To cite just a few, the exhibition will display the known material such as Krion®, a material similar to the natural stone that is made from natural minerals and high strength resins and that has many characteristics is 100% recyclable, antibacterial and extremely durable. Similarly presented in this edition is Perennis, a novel material produced from the mixture of natural fibers and plastic for obtaining the best properties of both materials. With a visual appearance of great warmth such as wood, this material also presents an excellent behavior towards fire, and highly adaptable to the weather and wet environments.
Fimma, synonymous with cutting edge technology
Completing the new features supply, this year also shows a wide range of software and newly developed software for the design of projects related to the world of decoration, interior design and wood and furniture sectors. IT developments that allow direct connection to machines, with a multitude of functions that enable integration between the design process and the manufacturing process.
At Fimma 2014 (the International Exhibition of Machinery and Woodworking Tools), will proliferate new CNC equipment characterized by greater flexibility, to occupy less space in the factory or workshop thanks to the vertical design of the machine, and to allow reducing production time and costs.
And considering that the aesthetics of components and furniture has gained increasing importance, before a consumer looking for design and decorative value to the smallest detail, there are also many proposals that will meet at the exhibition in digital printing machinery. New features that allow to capture any image, drawing or design on multiple media types from melamine, cluster, crystal and natural wood.
Other stars of the show are going to be gluing systems. Always looking for the highest precision and the highest quality in fixing parts-durability guarantee of any piece or furniture- Fimma will be the showcase for new technologies such as glue for the injection of high pressure air.