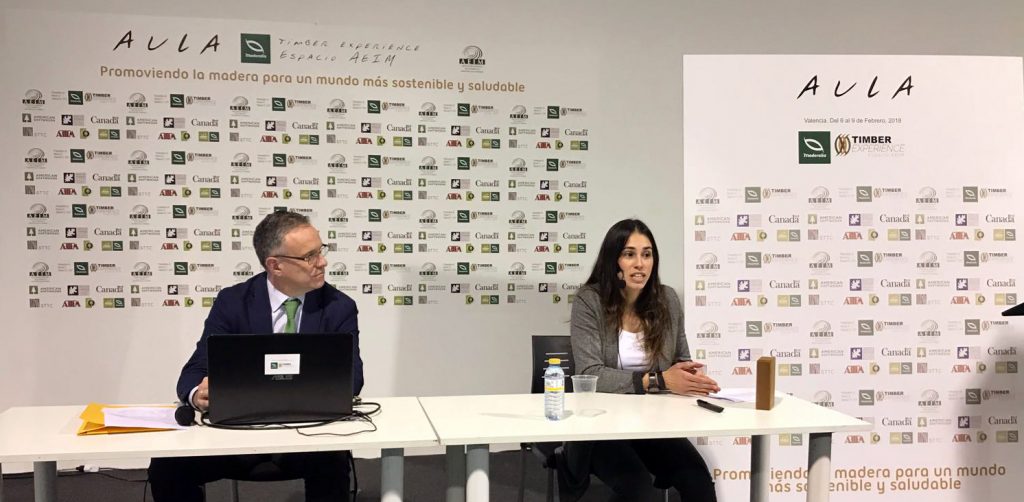 Architect Maria Sanchez Ontín, creative studio "The Cambium Design" in Santiago de Compostela, offered in Maderalia talk "Projecting wood: practical guidance ".
This young professional, passionate wood, He deepened in the use of this material, after completion of the Master PEMADE on wooden structures. In fact it is a specialist in calculation of structures.
His presentation aroused great interest and numerous public asisencia Timber classroom Experience of AEIM, in the recently closed edition of Maderalia.
Sanchez Ontín, He focused his presentation on practical guidance on the proper use of wood in projects. He stressed that the negative myths of wood due to a lack of the material. Specifically he addressed the following points:
Durability, fire behavior and resistance (strength / weight ratio) wood offers exceptional properties. While requires strict control of humidity.
Classes use of wood in the open and the right choice of the species.
Design protection: He emphasized prevent accumulation of water and ensure adequate ventilation, and avoid direct contact of wood with foundation / ground.
He referred to some guidelines as to the junction of walls and beams, as well as the proper design of eaves.
Cerramientos: Relevant that are waterproof and breathable.
As for facades: prevent spattering, avoid sharp edges and correct choice of species.
exterior parts: Avoid horizontal surfaces.
In a fire: He stressed that never starts in the wooden structure and it has a predictable behavior.
structures: He stressed the importance of unions. Noting that the ratio of strength to weight is exceptional.
Finally he stressed the importance of strict compliance with all regulations to give confidence to users and prescribers.