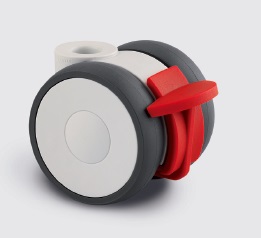 LINEA 50 Load es la única rueda sintética que ofrece 100 kgrs. de capacidad de carga dinámica, con una baja altura total, 49,7 mm. El aro UAP mejora la movilidad por los dos rodamientos de bolas y el bandaje de poliuretano. Fabricada conforme norma EN12530.
En la rueda LINEA 50 Load, cuando el freno está activado, la pieza entra en contacto con el suelo y el riesgo de daño del pedal de freno se reduce significativamente.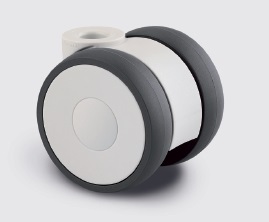 El sistema de freno está ensamblado con un muelle en un casete. De esta manera, el muelle ayuda a retener la función freno y provee una actuación más suave.
Linea 50 Load is a castor wich offers a big load capacity and a low overall height. Today, this is the highest dynamic load capacity for a double wheel synthetic castor.
The UAP wheels bring resistance to the castor under load and improve mobility compared to basic 50 mm castors. The standard range of fifting in diameter 10mm allows the Linea 50 Load to reach a dynamic load capacity of 100 kg. Load capacity tested according to EN 12530 institutional castors. This castor complies with all the requirements from EN 12530 Castors for institutional use, but the swivel play test.
Smart brake lever
On Linea 50 Lead, when the brake lever is engaged, this part is contact with the ground. This way the risk of damagiing the brake lever is significaly reduced.
The braking system is assembled with a spring in a cassette. This way the spring helps retaining the braking function and provides a smoother actuation.