The main questions that HOMAG answers on the production of the SME sector are: What specific options offered by digitization today to small and medium enterprises? What wizards and user-friendly features can facilitate the daily work of a carpenter or cabinetmaker? How do companies find individual modules suitable for their "future workshops"?
HOMAG presents businesses the SME sector auxiliary sophisticated devices that facilitate daily work processes and user with minimal intervention.
Visitors to the HOMAG stand in the next FIMMA of Valencia, on 10 to the 13 March 2020, They may approach your solution towards digitization and digital interconnected to the workshop.
AN EASY START
Almost all companies have ever wondered: "Where do you better start?".
HOMAG offers a range of basic and easy solutions so that the user can get a clearer view, recognize potential optimization and improve existing manufacturing processes.
How to easily get data from digital production order?
How can you take advantage of optimization software?
How can you keep the overview of all parts?
How can you use the data in a consistent manner?
During the manufacturing process, any type of company can enjoy various assistants, thanks to HOMAG:
1.- CabinetCreator (Furniture configurator)
This furniture configurator allows the user to configure on your tablet or computer furniture you want quickly and easily. To register, You can use a selection of predefined basic forms can adjust step and intuitively, introducing the construction parameters. Futhermore, the user can create their own library with cabinet models.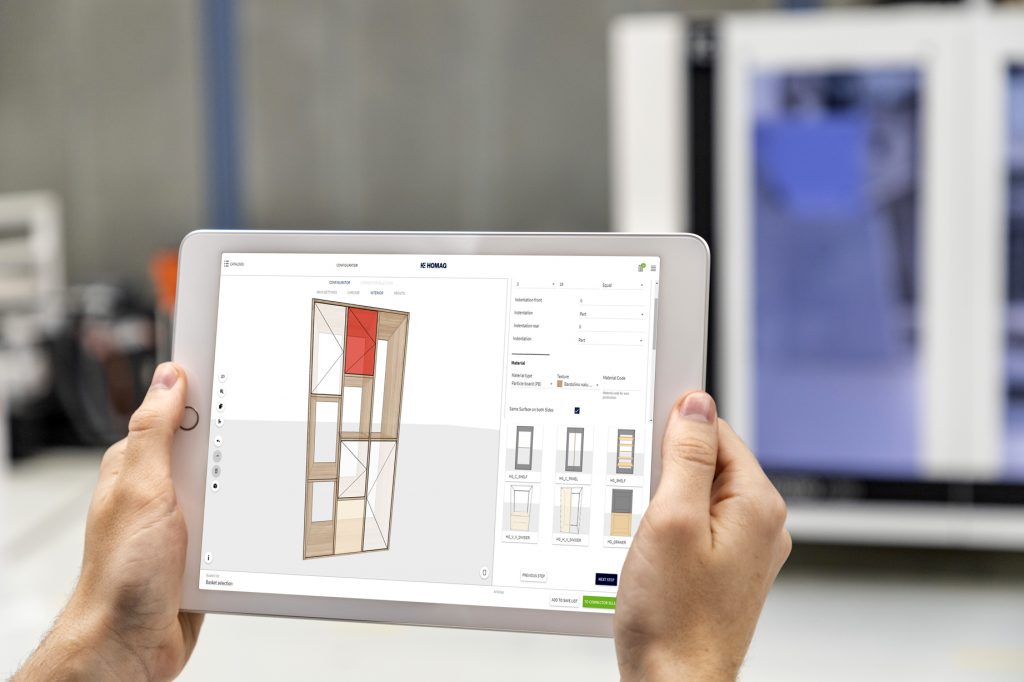 Once the construction, a fitting based on the data on all standard hardware manufacturers will be selected.
Each company can store its own building standards and use them for new models. Digital production data, as planes, parts lists and CNC programs are obtained directly and can be exported.
cabinetCreator is a web application, so it should be used in a device with an Internet browser. In this way, the application can be used in an office, a machine or a mobile device without installing software. Another great advantage is that the software is always updated and that the company can make enlargements automatically.
2.- ProductionManager (digital job folder) and cutting optimization intelliDivide
Nowadays, Many companies employ lists of pieces written by hand on paper. The working folder lets you use digital productionManager constantly during production data. Such work folder groups all relevant production data and replaces all paper documents.
Thanks to the cabinetCreator (Furniture configurator), you can easily import all data to the digital job folder and access them at any time through a smartphone or tablet. Ahora, the operator has a clear status of all orders and can also add more pieces or transfer to cutting optimization without any difficulty intelliDivide.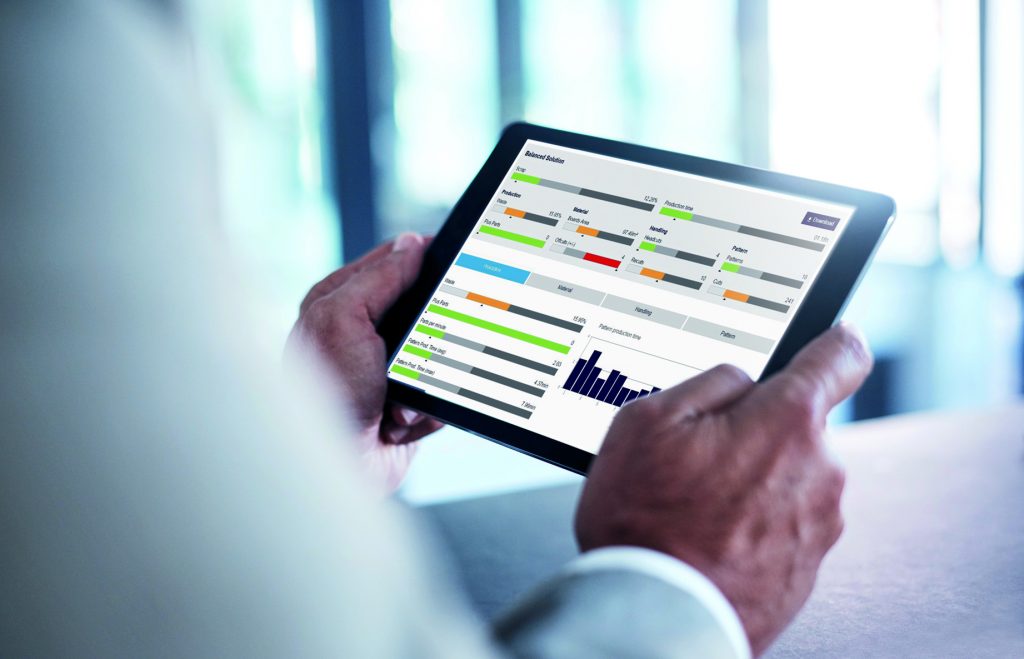 This cutting planes creates software based on different criteria (insufficient retales, short process time or handling simple material) and, a continuación, Make a list of parts, regardless of the type of saw. In the wizard cutting Cutting productionAssist, the user selects the suitable cutting plane. You can print labels with just a click. All parts are easy to identify and label, meanwhile, It provides information machining edge banding machine and the CNC machining center.
3.- ProductionAssist Sorting (classification assistant)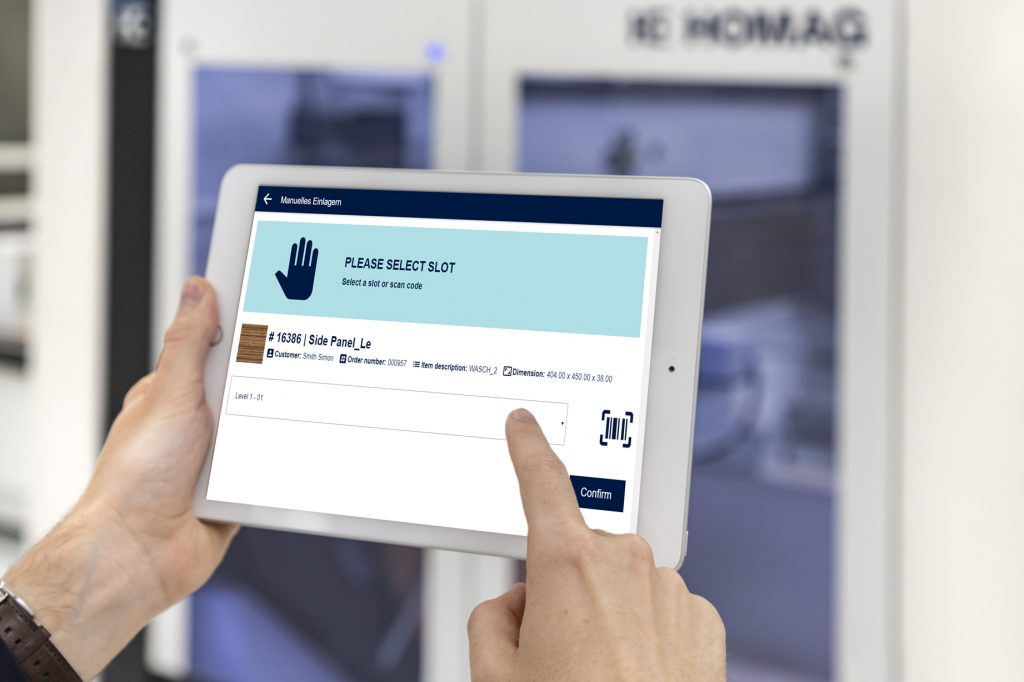 To use this production assistant, it is necessary to have a special classification shelf. The user scans the barcode of the piece for instructions that tell you which shelf to place the first piece of furniture. Advantage: simpler process, fast and safe.
4.- ProductionAssist Assembly (mounting assistant)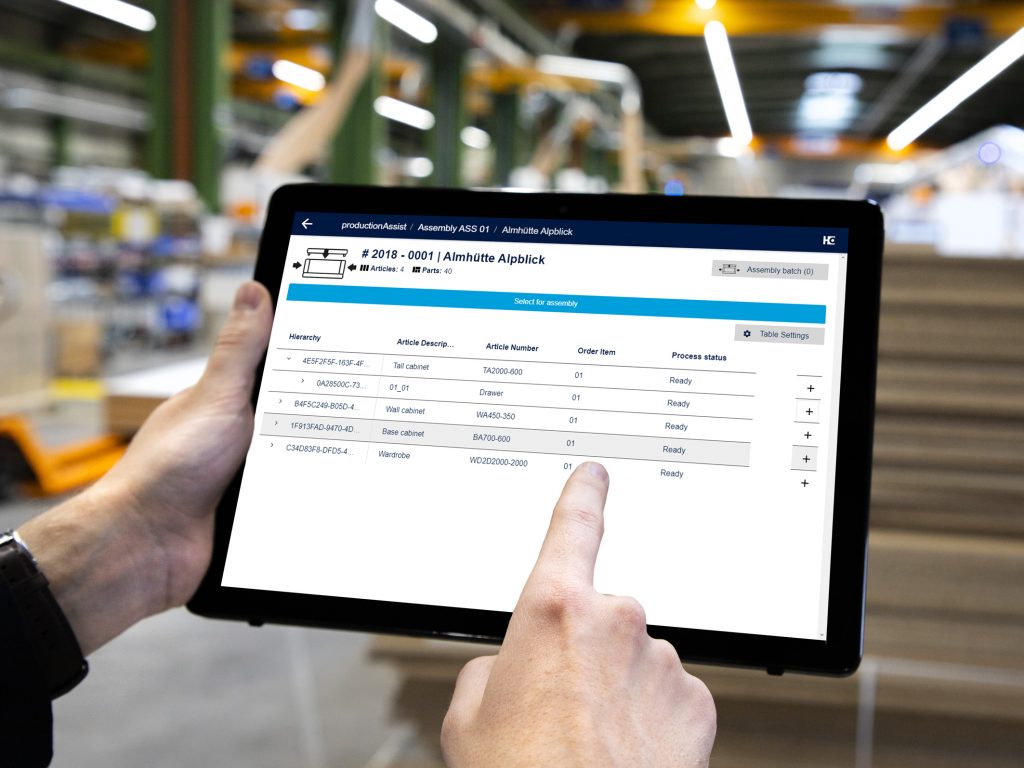 This production assistant for mounting shows parts drawing and quartering, and the view of the plane 3D furniture. In overview, the user will find a list with all the necessary hardware and see all the furniture and can be mounted completely. Also, the user will always have at your disposal all kinds of information on request.