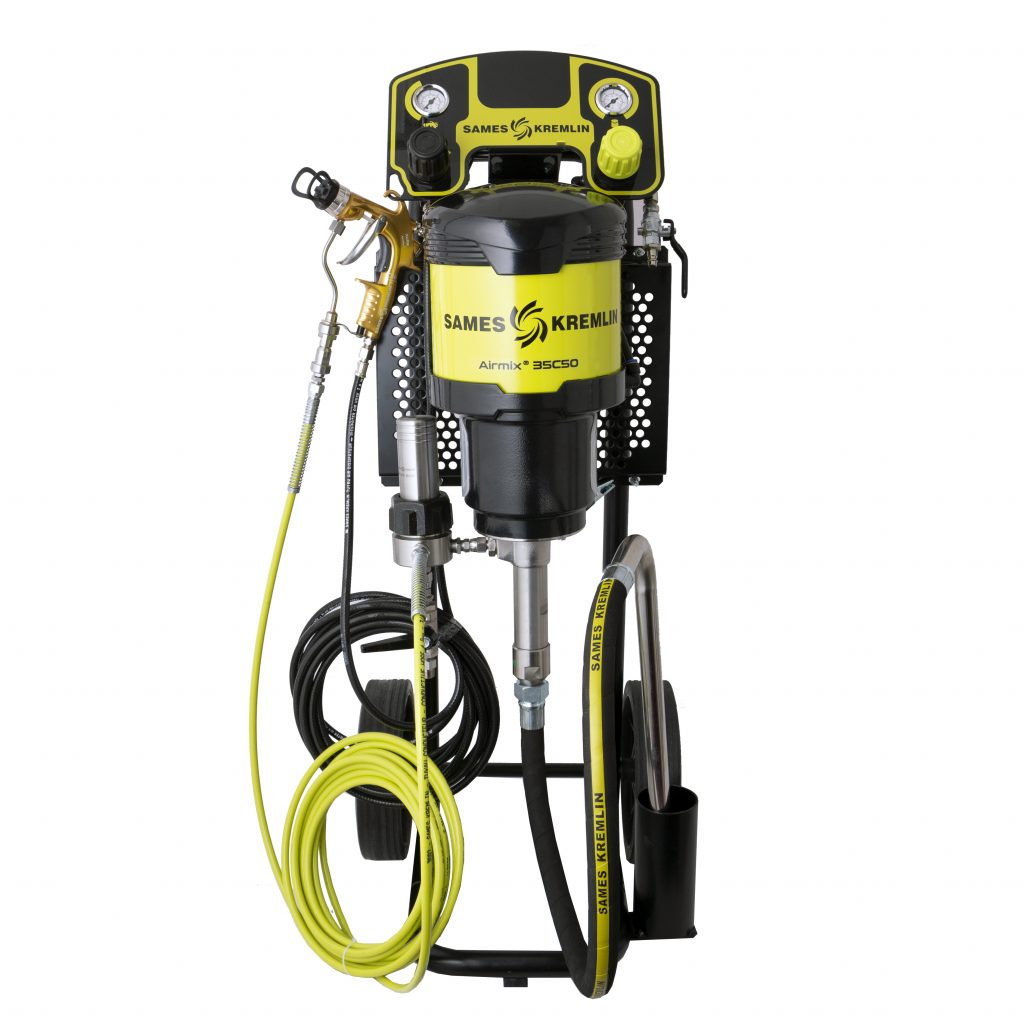 35C50 paint pump SAMES KREMLIN has been designed to meet the growing demand for water-based paints.
35C50 paint pump Airmix® provides excellent performance and exceptional benefits from our proven pump technology. With a powerful air motor, the 35C50 can feed both 2 Airmix® as pistols 2 pistolas Airless, with a section of fluid volume changes optimized for quick color with minimal material loss.
Kits paint pump 35C50 Airmix® are available in wall mounting and trolley. available (1) Pistola manual Xcite™ Airmix® de 200 bar equipped with a nozzle 12.114 and air lines and product 7.5 m. Also available is a version with airless spray gun sFlow ™. a variety of accessories to meet offered all the needs of customers and markets.
Benefits
Controlled start-up of the pump, starting at very low pressure (0,6 bar), thanks to the magnetic shift valve. For easy priming and cleaning.
The differential air motor (know-how de Sames Kremlin) progressively actuate the pump allows for maximum comfort and safety for the operator (9 fluid pressure bar).
His new piston technology provides a continuous flow of paint to obtain a homogeneous application and a constant thickness for superior finish quality.
Compatible with most coatings thanks to the sealing system of the cartridge MBA (proprietary).
Designed with a minimum of parts, which means less wear parts, less inventory and lower cost of ownership.
Designed to allow non-specialists maintenance and repair.
Many accessories available to customize the pumps and meet all customer needs.
markets
small and medium shops seeking flexibility and affordable cost of ownership.
Intensive use with one or two guns, with or without recirculation.
Dedicated to frequent changes Color.
Especially recommended for manual applications Airmix® and Airless, pump combines a compact design, robust and easy to work.
With the hydraulic section C50, It is suitable for applications one or two guns Xcite ™ or sFlow ™ spray and heating systems.
compatible materials
Coatings water base and solvent, 1K and 2K (viscosities 10 to the 5000 cps):
varnishes
Topping
Lacas AM
Conversion layer
acrylics
polyurethanes
tints